Stack Shuffle and Slide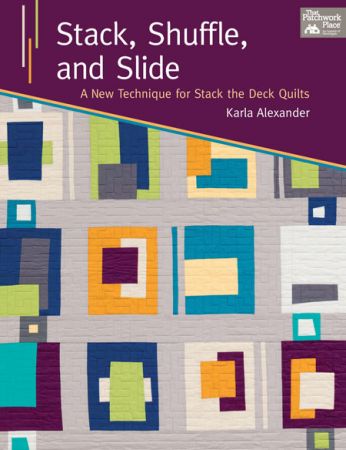 "Brilliant designer Karla Alexander has won fans around the world with her gorgeous quilts and innovative techniques. Now she takes a new approach to her popular stack-cut-and shuffle idea - with amazing results."
Contol the color placement in your design by adding a new step - THE SLIDE - to Karla's stack - cut - and shuffle method.
Be inspired by Karla's use of color - from light and airy prints to batiks to bold graphic fabrics - and create quilts with a traditional or modern aesthetic.
Select from 15 creative designs that give everyone form beginners to seasoned quilters something fresh and new.
Enjoy!!
$19.00
This item is available for purchase. I accept PayPal, cash, check, or money order. If paying by cash, check, or money order please contact me. To pay by PayPal, click the add to cart button below.
$
19.00
$
19.00